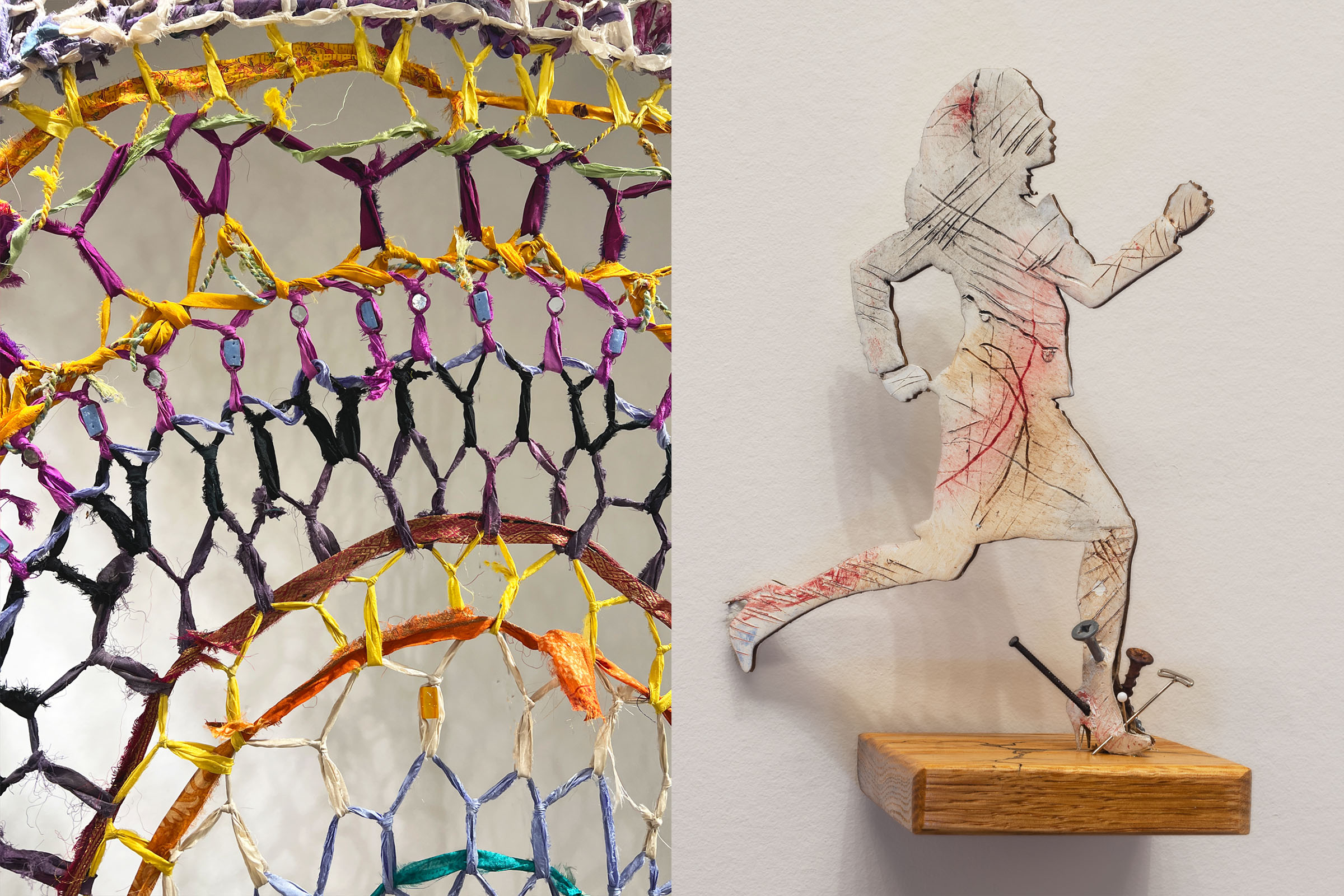 2023 MFA SUMMER THESIS
Jul 22 – Aug 13, 2023
Curated by Lucinda Bliss and Lisa Tung
CURATORIAL STATEMENT:
Undercurrents and Reflections
"Leave the door open for the unknown, the door into the dark. That's where the most important things come from, where you yourself came from, and where you will go."
― Rebecca Solnit, A Field Guide to Getting Lost
Each of the artists in the Summer 2023 thesis exhibition leans into the unknown. Though the resulting work is formally and conceptually distinct, the artists are linked by the tension between narratives that can be told and those that remain just out of reach. There is something that feels true in this position―in how each of these artists claims the undercurrent. The work in this show is driven by narrative–about the natural world, the spirit world, the genealogical world, and the world of the cyborg–and the result is an opening to the subterranean, a view behind the curtain. 
Julia Bettis draws from the natural world she inhabits, bringing obsession with the lives of plants to phenomenological heights. Through exploration and repetition she enters a conversation with the history of botanical and still-life painting, creating compositions where flowers and plants fall out of the pots onto the rug and out of the canvas into our laps.
Tracy Leavitt's work lives in the space between interior reflection, the invisible space of spirit, and cultural critique. The artist reaches into the territory of mystery, inviting us to step into the question with her. Leavitt is prolific, open, and seeking. The resulting work is joyful in a quiet, questing way and asks us to consider the potency of its materiality. Here, the artist is a conscious and engaged conduit, open to that beyond what we can perceive directly. 
Serena Buschi honors and interrogates her artistic and genealogical forebears, drawing from family, science, and mysticism. She converses with feminism, with the history of craft, with South Asian ritual, with the extravagant color and gems and of sari textiles. Buschi examines cultural identity with an artist's eye/mind―Identity as an idea, as a reflection, and with an expanded understanding of interconnection. 
Mikhail Kogan's work narrates a relationship between the body (as flesh) and technology (as a tool and as a rupture of the body). Can the body be trusted not to turn on its host? Can technology be trusted to act in the body's interests? What are the barriers (skins) that protect us from the world around us, from predators, from intrusions? Mikhail's experimental animation  is composed of found objects, which come together with finely crafted felt, conflating high and low and ultimately questioning our assumptions about the human relationship to the natural and technological worlds.
The 2023 MFA Summer Thesis Exhibition features work from four MFA candidates in MassArt's Low-Residency MFA Program in Interdisciplinary Practice.
Featured Artists
---
Exhibition Images
---