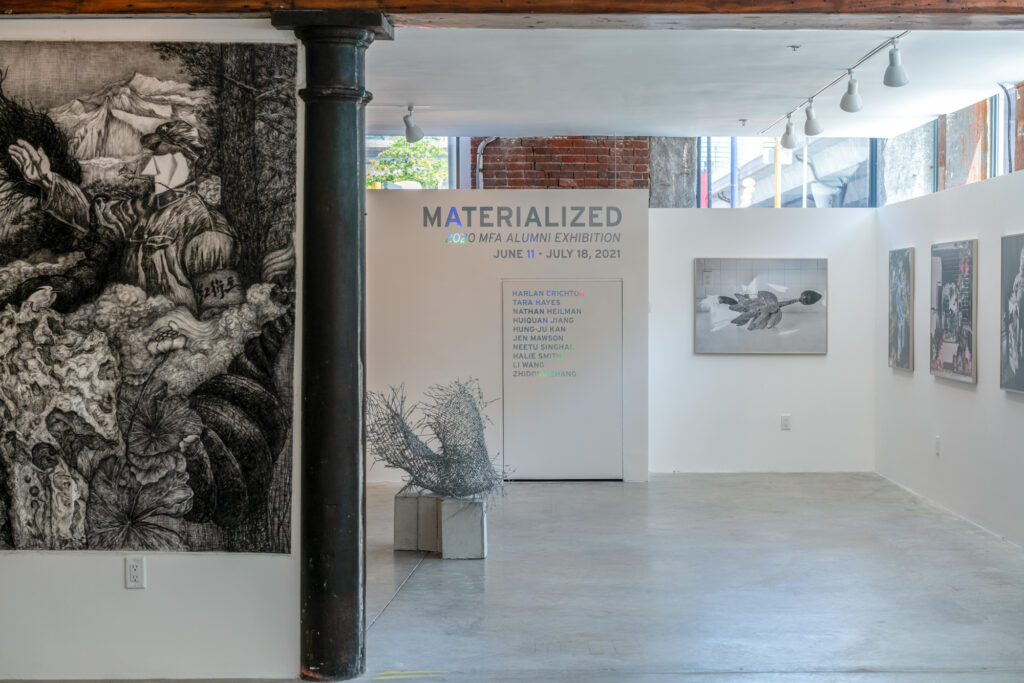 MASSART X SOWA MISSION
The MassArt x SoWa graduate gallery mission is to exhibit high quality work in a broad range of media from emerging and established artists in the MassArt community. The gallery features the thesis work of our Master of Fine Arts students and premier work from our graduate design programs, as well as curatorial projects, alumni exhibitions, student and faculty curated shows, and collaborative exhibitions with our community partners.
As the first independent state-supported public college of art and design in the nation, MassArt is committed to being part of the public conversation–to providing opportunities for entrepreneurial and socially engaged work. The gallery is designed to reflect MassArt's commitment to diversity and to expanding the ways that MassArt provides access to arts education beyond the walls of our college.
---
GALLERY STAFF AND ADVISORY GROUP
MassArt x SoWa is operated by the MassArt graduate programs, in collaboration with an advisory group comprised of MassArt staff, faculty, and alumni:
GALLERY STAFF
Felicia D Scott ('17 MFA): MassArt x SoWa gallery co-Coordinator / Director of Graduate Resources and Exhibitions
Rebecca Morrison ('18 MFA): MassArt x SoWa gallery co-Coordinator / Director of Graduate Programming
Zhidong Zhang ('20 MFA): MassArt x SoWa Exhibitions/Gallery Team / Graduate Programs Social Media Manager
Justin Anthony Flint : MassArt x SoWa Exhibitions/Gallery Team / Preparator
Current Graduate Assistants: Yulia Spiridonova ('24 MFA Photography) / Dhanshree Patil ('24 MDES)
ADVISORY GROUP
Lucinda Bliss, MassArt Associate Provost, Dean of Graduate, Professional, and Continuing Education
Fish McGill '14 MFA / '04 BFA & Program co-Director of the MFA in Design, Assistant Professor of Design
Jeffrey Nowlin '19 MFA and faculty
Courtney Stock '17 MFA and faculty
Lyssa Palu-ay '90 MFA, Dean of the Office of Justice, Equity, and Transformation
Lisa Tung, Executive Director, MassArt Art Museum
---